CHARLENE TILTON TELLS ALL!
Why She Left DALLAS,
What She Will Do Next,
Love, Marriage, Motherhood
By MERIDITH BROWN (SOAP OPERA DIGEST)
I was shocked and very upset. In fact, Im still shocked and upset. I dont know where the decision came from CBS or Lorimar but when Leonard Katzman called me into his office, I cried, and he cried.
The person talking is Charlene Tilton, Lucy Ewing for the past seven years on DALLAS. The man she is referring to, Leonard Katzman, has been producer of the show for all that time, and the decision which made her so upset was one that mandated Lucy Ewing would not be returning to the DALLAS next fall. But more about that later.
When DALLAS first premiered she caught the viewers attention with her luscious blonde hair and sassy mouth that could shut even J.R. up. Charlene Tilton was a mere 17 years old when she originated the role. Her acting experience was limited to films such as BIG WEDNESDAY and SWEATER GIRLS, plus a few guest-star spots on series. Suddenly, she was thrust center stage with a cast that included experienced, expressive talent, and DALLAS took off. That was the good news. But with the press enamored of TVs number one show, Charlene found herself the darling of the tabloid press, not the most enviable spot to be in. Her every pound gained or lost, her every romance, real or imagined, was documented. When she married country western singer Johnny Lee, gave birth to their daughter Cherish, and later divorced her husband, it was all recorded and often not accurately or kindly for the world to see. Despite that, Charlene has somehow remained gracious, open not bitter.
Having grown up in relative poverty, in of all places, Hollywood California, Tilton was appreciative of the lifestyle her work afforded her. She was also devoted to DALLAS. Each year her acting improved, and Charlene was known around the world. Hence, when the word came down that Tiltons contract would not be renewed, it was a jolt for the young actress.
I first met Charlene Tilton last August while the cast was filming in Dallas. Incredibly petite, she has huge green eyes, flawless skin, and hair that must be the envy of every teenage girl in America. More than her looks, thought, I was struck by Charlenes devotion to her three year old Cherish. At the circus one night, I watched as Tilton sat entranced-not by the entertainment-but by the her daughters reaction to it. She may be a mother, but Charlene Tilton has not lost her girlish innocence.
This conversation took place, first, in Dallass Marriott coffee shop, then months later after she learned her contract was not being picked up, we spoke again. Tilton was dressed in a blue, puffed sleeve frock, left over from her maternity days. She had amethyst studs stuck in her ears and her hair was clasped back in a ponytail.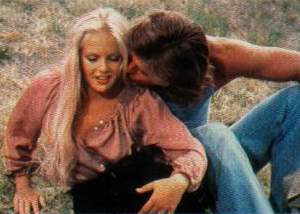 M.B: How did you find out that you wouldnt be returning to DALLAS next season?
C.T: Leonard Katzman, whom I love-theres nothing that man cant do- called me into his office and told me. He was so nice. He explained that they were changing the format of the show. We were both very upset, but Lenny said this would let me go on to bigger and better things.
M.B: How did the cast react?
C.T: They were incredibly supportive and very upset. Larry Hagman (J.R) called me as soon as he found out. They were all shocked. I really believe that by getting rid of Lucy, DALLAS is losing an important character. I dont mean Charlene Tilton, I mean Lucy. The character attracted a youth audience. And I want the audience to know that the decision to leave was not mine. I never would have left the show.
M.B: Do you know how theyre going to have Lucy leave DALLAS?
C.T: I dont, which is weird. Im still filming til April.
M.B: Do you think its possible that the character might return?
C.T: I dont know (laughs), but in soaps youre never dead, no even when your dead so.
M.B: What do you plan on doing next?
C.T: DALLAS is not the end of my career, its the springboard for other things. Id like to do a sit-com, and Im looking at a movie of the week right now. Id also like to pursue my singing, my album is very successful in Europe. Whoever made the decision to not renew my contract, I respect their creative choice, and life goes on.
M.B: Lets talk about Lucy. How had she changed in the seven years you played her?
C.T: They kind of let Lucy grow as Charlene did, which was nice. Though Lucy, bless her heart, has had more than her share of trials. She wanted to make it on her own without the Ewing name. She wanted to find out if people really liked her for herself. Every man shed gone out with either loved her for her money, or hated her for her money. Lucy, like Charlene needs to feel accepted and loved. But she went about it the wrong way. Lucy started out being manipulating and calculating of course, look at the family shes been in. I was different. I sought out attention by doing stage shows, for the neighborhood kids.
M.B: How are you different from your character?
C.T: Well, we dont have any money, but I had a mother who cared a lot and was always there. Like Lucy, I grew up as an only child. But, we lived in this one room apartment in Hollywood. In a really, low, low class area. Lucys got all these people around her and I just had my mom. My mom and I are still very close.
M.B: You seem to be very close to your own daughter, as well. How has Cherish changed your life?
C.T: I cant even imagine life without her! Shes everything to me, my number one priority.
M.B: Youre a single parent now, do you find that difficult?
C.T: Its not the ideal situation, that for sure. A child needs both parents, but it would have been wrong for us to keep together for Cherish. Johnny keeps in touch with her.
M.B: Does he see her?
C.T: Once in a while, when he can.
M.B: Do you find yourself rearing Cherish differently from the way you were brought up?
C.T: I try to instill in her some of the same basic moral values that my mother installed in me, but like I said, we had no money growing up and thats the difference. Johnny and I are both genuinely appreciative of what we now have. We both came from such poor backgrounds, that neither of us, really takes anything, materialistically, for granted. It doesnt rule our lives, but were grateful for what weve got and we try to instill that in Cherish, too. I want her to know that money and possessions arent just handed to her and they wont be as she gets older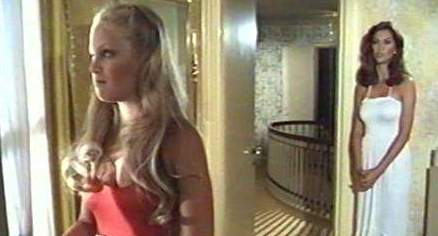 M.B: Do you feel guilty when youre working and not with her?
C.T: No. Im with her so much. Shes probably gad to get rid of me. I have a governess for her who lives with us, but when she gets up in the middle of the night, Im the one whos with her.
M.B: Is Cherish aware of what you do for a living?
C.T: Yeah. She knows who Mommy and Daddy are when she us on TV or when she sees our pictures in magazines. (laughs) She, goes up and kisses the picture.
M.B: Lets get back to DALLAS. How has the show improved your work?
C.T: I learned some very good habits, those actors are so professional. Just working with people like Larry Hagman and Howard Keel (Clayton), who are so experienced, every time Im on the set Im learning and growing.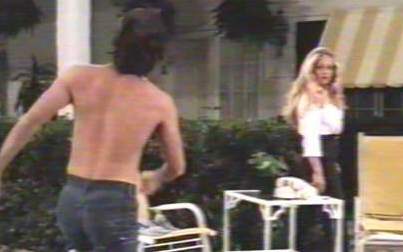 M.B: What is it you love about acting?
C.T: I really like to express myself in that way, to get my emotions out. Sometimes a person cannot do that so easily, but when Im on the set in front of the camera I just go to town and love it.
M.B: After seven years on the show, do you have a favorite scene you acted in?
C.T: I think there is one episode that stands out to me from about four years ago. There was this man I was supposed to marry, a rich heir to an oil company. It turned out the character was gay. They handled a very touchy subject that could have been insulting to people, or just plain stupid, in a very gentle, sensitive way. I was proud of it.
M.B: Certainly over the years, youve worked with many, many leading men on the show. Who was your favorite?
C.T: Dennis Renfield, who played the photographer who raped me. I hated what he did to me, but as an actor, I thought he was terrific. He was like a young Richard Dreyfuss. Timothy Patrick Murphy (Mickey) and Leigh McCloskey (Mitch) were also fun to work with.
M.B: Lets get back to your own love life. Would you want to get married again?
C.T: Definitely, its been a year since my divorce and Im ready to start again.
M.B: What do you want from a man the next time around?
C.T: I want two people who are really willing to commit to a marriage as one. Johnny has a lot of good qualities, hes got a sensitive side to him. He just chose a life-style that I didnt want to take part in. Im not in the stage where Im trying to find myself, Im actually quite comfortable and happy where I am. Im not in a rush to get married, just for the sake of it, but life goes on and Im ready to go with it.
Soap Opera Digest, March 26th, 1985